Sale FormatTimed Online AuctionClosed Sale StatusClosedOrdered Sold by Consolidated Pine, Inc.WOOD MOULDING MFRDate & TimeTuesday, July 31, 2018 LocationPrineville, OR More InfoView & Bid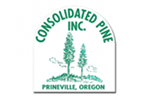 Sale Details
MOULDING MILL
• (6) Mattison 276 6" 4-Head Moulders
• Mattison 229 8" 6-Head Moulder
• (2) Ferrari 42" Twin Resaws
• Turner Single Resaw
• Graco 16 Gun Paint Line
• Rondamat 934 Grinder
• Jefferson Hammer Hog Plus Buffers
• Grinders
• Moulder Knives
FINGER JOINT SHOP
• (2) Industrial 4270 Finger Jointer Lines each w/ (8) Chop Saws
• Jointer and Tailoff
• United Tool Company Grinder
• Hoists
• Support Equipment
RIP SAW SHED
• Portland Iron Works Ripper w/ (5) Saws
• (2) Side Heads
• Powermatic Routers w/ Magnetic Press Blocks
• Metal Cutting Bandsaw
• Millermatic 135 Wire Welder
• Shop Lathe
PLANING MILL
• Stetson Ross 24" Planer
• Woods 808 4-Head Moulder
• (13) Trim Saws
• Chop Saw
• Groover
• Finger Jointer
• Jefferson Hammer Hog
ROLLING STOCK
• (4) Gerlinger Straddle Carriers Up to 20,000 Lb. Capacity
• Hyster 18,000 Lb. Capacity Diesel Forklift
• (3) Hyster 8,000 Lb . Capacity Gas Forklifts
• Hyster 165 Forklift
• Allis-Chalmers 840 Front End Loader
• Galion 118 Grader
• GMC 7000 Flatbed Truck w/ Liftgate
PLANT SUPPORT
Multiple Air Compressors, Motor Control Centers, Dust & Chip Collection Systems, Powered Conveyor, Parts Room, Hand Tools, Office Furniture and Much More…
INTELLECTUAL PROPERTY
Trade Names, Logos & Phone Numbers
REAL ESTATE
23.8 Acres w/ Multiple Buildings with Multiple Railway Sidings on Property. Buildings Include Moulding Mill, Finger Jointer Shop, Ripsaw Shed, Planning Mill, Truck Shop, Multiple Lumber Storage Sheds & Offices.
Additional Info
Over 23 Acres of Real Estate, including Rail Spurs, Intellectual Property, Manufacturing Equipment,
Material Handling, Rolling Stock & More
Sale Partner
STEP 1 – REGISTER
Click the 'Register to Bid" link above and complete the signup form – your bidder number will be emailed to you for use at this auction. Please be certain to review the Terms of Sale, along with any Sale Specific Terms before registering.
You must provide a credit card, which will be authorized for $300 to secure your bids; Please note that your card must have sufficient credit to be authorized for 25% of your purchases as you continue to bid. If you plan on spending more than $10,000 please contact the Auctioneer prior to the auction to ensure no bidding interruption.
$5000 minimum deposit is required prior to the auction for international bidders. Auctioneer may not be able to respond timely to registration requests on the day of sale, we recommend registering the day prior to the auction.
All deposits made by cashiers check, wire transfer or firm and personal check accompanied with a bank letter of guarantee will be returned within 7 days unless purchases are made.
STEP 2 – VIEW ITEMS
– Click on the 'View Items' link above to browse the auction catalog.
– Click on 'View Item' to see the full lot description of each item.
– Click on "My Items" to view all items won, items not won, items you are currently bidding on and any items on your watchlist.
STEP 3 – BID
Enter a maximum of what you are willing to pay next to "Place max bid" and submit. – The system will start your bid at the lowest available increment and bid for you.
– You can place multiple bids by entering all your max bids on each lot then scrolling to the bottom of the page and click on "Place multiple bids"; however, changing pages will clear your bids.
STEP 4 – PAY
Credit Cards on file will be charged at the end of the Sale plus an 18% buyers premium and Sales Tax unless you are purchasing for resale and have completed and returned a resale certificate before the conclusion of the auction. Balances in excess of $10,000 must be settled by cashiers' check or wire transfer received by Tiger by 12:00 pm the day following the auction.
STEP 5 – PICKUP
You are responsible to remove your items during the posted checkout times. If you are purchasing from out of the area, you may send a 3rd party shipping company to remove your items. Bring your own crews, packing materials, material handling equipment, etc. for removal. Appointments are mandatory. Be sure to email your preferred pickup time within the posted schedule after you have won your last auction item.