Sale FormatTimed Online AuctionClosed Sale StatusClosedEquipment No Longer Needed for Future Operations...STATE-OF-THE-ART POST-PRODUCTION FACILITYDate & TimeTuesday, August 16, 2016 LocationBurbank, CA More InfoView & Bid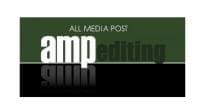 Sale Details
EDITING/WORKFLOW
Prime Image Time Tailor V 4.80, Fastrack V4.5X88, Avid Media Composer 7.0.4 w/Symphony Option running on Mac Pro w/OS X, (2) Avid Media Composer 7.04s w/Symphony Options running on HP XP8600 w/Win 7, (4) FCP 7.0.3 on Mac Pro running OS X, (2)Nitris DX BOBs Control Surfaces, Keyboards, and Many Oher Accessories…
ENCODING/TRANSCODING
Amberfin Recorder Encoder/Transcoder, Amberfin Player Encoder/Transcoder, Telestream Pipeline Dual HD, (2) Skymicro MPEG2 Encoders, Evertz HD Caption Encoder & Evertz XDS Encoder 8083XDS-AD, and Much More by Blackmagic, Miranda and Others…
DECKS
Sony SRW-5500HDCAM SRs with HKSR- 5001 Boards, Sony DVW-A500s, Panasonic D5's, Sony DVR-20 D2, Ampex VR 300 D2, Sony BVH-3000, Sony BVH-2000 Plus More Sony Decks & Cards.
STORAGE AND SERVERS
Editshare SAN w/64TB V 6.4.0.7, Avid Media Dock Ultra 320, (4) Addonics SAN Storage Towers, BrightDrive SAN Server, and Cache-A LTO 4 Archive, Plus More Servers & Workstations by HP, Dell, Apple, and Supermicro.
MONITORS AND TERMINAL GEAR
Sony LMD-320, JVC 24" HDSGI Monitors, (5) Sony PVM-20L's, Samsung JKP Projector, JKP Screen, and Many Other Monitors by HP, Apple, JVC, and Samsung Blackmagic Video Hub, (2) EEG VANC Monitor Model 285s, (2) EEG DTV Caption Legalizer Model CB 512s, Evertz HD Time Code Master HD9010TM, Harris DL860 HD/SD Legalizer & More Gear by Leader, Snell & Wilcox and Panasonic.
AUDIO
Protools 11/10 Software on Mac Pro Intel, Pro Control Main Fader & (2) Fade Packs w/8 Faders, Digidesign Pro Tools HD3 Core & Accel Plus Much More I/O Gear, Blue Sky SAT 6.5 Studio Monitor MK2 System, (3) Pair Mackie HR824MK2 Monitors, Crown Amps, KRK V4 Monitors, Mixers, Studio Monitors, Outboard Gear and Much More…
CAMERAS AND LENSES
Red One Camera Package w/PL and Nikon Mounts, 5" Red Monitor, (3)16GB Compact Flash Drives, (2)Red 640GB Drives, Batteries, Chargers & Additional Mounting Hardware, Panasonic HVX 200 & DVX 100A Cameras, (5) Zeiss Distagon Lenses and More…
Additional Info
Editing, Encoding, Storage and Mixing Gear from Avid, Prime Image, Amberfin, Sony, Editshare, Digidesign, Cameras from Red & Panasonic
Sale Partner
STEP 1 – REGISTER
Click the 'Register to Bid' link above and complete the registration form – your bidder number will be emailed to you for use at this auction. Please be certain to review the Terms of Sale, along with any Sale Specific Terms before registering.
You must provide a credit card, which will be authorized for $300 to secure your bids; Please note that your card must have sufficient credit to be authorized for 25% of your purchases as you continue to bid. If you plan on spending more than $10,000 please contact the Auctioneer prior to the auction to ensure no bidding interruption.
$5000 minimum deposit is required prior to the auction for international bidders. Auctioneer may not be able to respond timely to registration requests on the day of sale, we recommend registering the day prior to the auction.
All deposits made by cashier's check, wire transfer or firm and personal check accompanied with a bank letter of guarantee will be returned within 7 days unless purchases are made.
STEP 2 – VIEW ITEMS
– Click on the 'Bid Live' link above to access audio and video.
– Click on the 'View Items' link above to browse the auction catalog.
– Click on "My Items" to view all items won, items not won, items you are currently bidding on and any items on your watchlist.
STEP 3 – BID
Enter a maximum of what you are willing to pay next to "Place max bid" and submit. – The system will start your bid at the lowest available increment and bid for you.
You can place multiple bids by entering all your max bids on each lot then scrolling to the bottom of the page and click on "Place multiple bids" however, changing pages without clicking on "Place multiple bids" will clear your bids on the previous page.
STEP 4 – PAY
Credit Cards on file will be charged at the end of the Sale plus a 15% buyer's premium and Sales Tax unless you are purchasing for resale and have completed and returned a resale certificate before the conclusion of the auction. Balances in excess of $10,000 must be settled by cashier's check or wire transfer received by Tiger by 12:00 pm the day following the auction.
STEP 5 – PICKUP
Buyer is responsible to arrange to have its purchased Items packed, insured, rigged, moved or shipped, and shall accept full responsibility for all labor, materials and costs necessary to complete its removal, as well as any damages, losses, acts or omissions related to Buyer's removal of purchased Items from the sale site.
If you are purchasing from out of the area, you may send a 3rd party shipping company to remove your items. Appointments are mandatory. Be sure to email your preferred pickup time within the posted schedule after you have won your last auction item.
ALL SALES ARE FINAL: All items are sold "as-is, where-is" with no guarantees or representations. All Sales Are Final. Buyers are recommended to inspect items before they bid.