Sale FormatTimed Online AuctionClosed Sale StatusClosedDue to the Winding Down of OperationsSMT / PCB CONTRACT MANUFACTURERDate & TimeTuesday, April 18, 2017 LocationCarrollton, TX More InfoView & Bid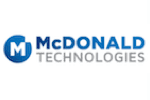 Sale Details

McDonald Technologies was a full service EMS manufacturing company providing electronic system design, multi layer printed circuit board assembly, embedded O/S services, test / burn-in capabilities, complex wiring harnesses production, and prototype design. Complete production lines as well as unique support equipment and tools could allow you to provide the same vital services to your customers. This is a great opportunity to expand SMT manufacturing, develop a prototype department, increase warehouse & office equipment or purchase electronic components inventory at a substantial cost savings.
SMT & PCB ASSEMBLY EQUIPMENT
DEK Horizon Auto Paste Dispenser, DEK MPM 3000 Automated Solder Paste Application, Universal Radial 5 Auto Insertion, Universal Model 6287 AXIAL Insertion Machine, (2) Fuji CP643E Chip Shooter, Fuji CP IV-2 High Speed Chip Placer, Fuji IP-II Dual Head Chip Placer, Fuji IP-III Dual Head Chip Placer, Radial Lead Sequence Inserter Model 6348A, Electrovert Automated PCB Wave Solder System, Sniper II SMD-7007-5001 Flo-Master, PVA 650 Conformal Coating System, Acculogic Sprint FLS4510 Flying Probe Tester, Electrovert OmniFlo7 Reflow Oven, Electrovert Bravo 8105 Reflow Oven, Selective Soldering RPS Automation Rhythm, Stoelting Aqueous CBW-218 Automated PCB Wash System, Kutrite MCS-135BC Measure Cut & Strip Large Wire Process Machine, Schleunginer CS-9100 Cut & Strip Machine, Artos-CS-600 Wire Cutter & Stripper, Sniper II SMT/BGA/Chip Scale Placement and Rework System, Conformal Coatings Operations w/ Spray Booth, Coil Winding Systems for Solenoids & Electromechanical Devices, Vulcanizing, Molding, and Potting Systems, Pressing Stations and Much More…
QC, TESTING & SUPPORT EQUIPMENT
VisionMaster 400 Automated Laser Solder Inspection System, HASS TC-9 Temperature Test Chamber, MIRTEC AOI Machine MV-3 Series, Teradyne Z1890 Circuit Tester, Teradyne Z1880 Circuit Tester, Nicolet NXR-1400i X-Ray System, Cable/Harness Testing System, Matheson Tri-Gas Environmental Testing Systems, Soldering Stations, Mantis Scopes, Oscilloscopes, Function Generators, Multimeters, Attenuators, Analyzers, Inspection Tables/Lights, Temperature Controllers, Power Supplies, Hand Tools Plus Much More…
MACHINE SHOP
Complete Machine Shop with Milling, Turning, & Grinding Capabilities includes Enco Manufacturing X6323 Vertical Mill, Equitop ESG-618M Conventional Surface Grinder, Alliant 1 1/2 TMV Vertical Mill, Shark Metal Mover 17 X 33 Lathe and Much More…
PLANT SUPPORT
Air Compressors, Vacuum Pumps, Forklifts, Manlifts, Pallet Jacks, Hand Trucks, Assembly Tables, Rolling Ladders, Shop Fans, Wire Utility Carts, Pallet Racking and Much More…
OFFICE FURNITURE & APPLIANCES
Executive Desks, Chairs, Conference Tables, Office Panel Systems, File Cabinets, Computers, Printers, Bizhub 601 Copier, Projectors, and Much More…
INVENTORY
$2MM Inventory of Electronic Equipment Including Antennas, Batteries, Boot Adapters, Buffers, Capacitors, CMOS, Connectors, Contacts, Crystals, Filters, Flashes, Grommets, Headers, Heatsinks, ICs, Inductors, Labels, LEDs, Micro Controllers, Modems, MSOPs, Oscillators, Plugs, Power Supplies, Processors, Proximity Sensors, Reed Switches, Resistors, Sensors, Sockets, Speakers, Switches, Transformers, Transistors, XCVRs, XTALs and Much More.
By 3M, Alpha, AMP, Tyco TE, AVX, Brady, Cornel, Cypress Electronics, Dallas Semi Conductor, Linear Technology, Molex, Motorola, Panasonic, Pioneer and Many Others.
Additional Info
(3) SMT Assembly Lines, Test Equipment, Inventory, Machine Shop, Plant Support & More
Sale Partner
STEP 1 – REGISTER
Click the 'Register to Bid" link above and complete the registration form – your bidder number will be emailed to you for use at this and future auctions. Please be certain to review the General Terms of Sale, along with any Sale Specific Terms before registering.
You must provide a credit card, which will be authorized for $300 to secure your bids; Please note that your card must have sufficient credit to be authorized for 25% of your purchases as you continue to bid. If you plan on spending more than $10,000 please contact the Auctioneer prior to the auction to ensure no bidding interruption.
$5000 minimum deposit is required prior to the auction for international bidders. Auctioneer may not be able to respond timely to registration requests on the day of sale, we recommend registering the day prior to the auction.
All deposits made by cashiers check, wire transfer or firm and personal check accompanied with a bank letter of guarantee will be returned within 7 days unless purchases are made.
STEP 2 – VIEW ITEMS
– Click on the 'View Items & Bid' link above to browse the auction catalog.
– Search by Keywords at the top of any bidding page.
– Click 'refresh' to see the current status of each item.
– Click on "Items Still Open for Bidding" to clear sold items from your screen and see only those items still available (this applies during the auction closings).
STEP 3 – BID
Enter a maximum of what you are willing to pay under "Your Maximum" – The system will start your bid at the lowest available increment and bid for you.
Then scroll to the bottom of the page, enter your Bid Number and Password and click 'Submit Bids'
(PLEASE NOTE: You will be asked to confirm your bids)
Important Bidding Notes:
– Items will close at a rate of 2-4 items every minute (varies by auction).
– An item's closing time will extend by 4 minutes when bidding occurs within the final 4 minutes of its scheduled closing.
– If you submit a bid prior to the auction you will be notified if you are out bid.
– You may enter multiple bids on a page before clicking 'Submit Bids'; however, changing pages will clear your bids.
STEP 4 – PAY
Credit Cards on file will be charged at the end of the Sale plus 18% buyers premium and Sales Tax unless you are purchasing for resale and have completed and returned a resale certificate before the conclusion of the auction. Balances in excess of $10,000 must be settled by cashiers' check or wire transfer received by Tiger by 12:00 pm the day following the auction.
STEP 5 – PICKUP
You are responsible to remove your items during the posted checkout times. If you are purchasing from out of the area, you may send a 3rd party shipping company to remove your items. Bring your own crews, packing materials, material handling equipment, etc. for removal. Appointments are mandatory. Be sure to email your preferred pickup time within the posted schedule after you have won your last auction item.