Sale FormatTimed Online AuctionClosed Sale StatusClosedExcess Gear to the Ongoing Operations of Keslow Camera Due to Eastern TV Full Service Media Production ClosurePROFESSIONAL AV PRODUCTION GEARDate & TimeTuesday, December 10 LocationCA, MA & NY More InfoView & Bid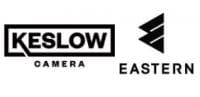 Sale Details
**EASTERN TV HIGHLIGHTS**
CAMERAS
• (4) Canon C300 MARK II EF MOUNT
• (11) Canon C300 EOS MARK I CAMERA BODY EF MOUNT
• (2) PANASONIC DVX100
LENSES
• RED: 17-50 mm T2.9 PL, 50-150mm Ff / 2.8 PL
• Zeiss (Set): Compact Prime CP2 PL 25MM PL, 35MM PL, 50MM PL, 85MM PL
• Canon: (2) 16-35mm f/2.8L II USM, (1) EF 24mm f/1.4L II, (3) EF 50mm f/1.2L USM, (10) EF 24-105mm f/4L IS USM Lens, (1) EF 100mm f/2.8L Macro IS USM, (1) EFS 18-55 MM, (1) EFS 60MM
• Canon: (3) Extender EF 2X III
TRIPODS
Sachtler: (1) IDEO 20 II W/ Legs Mid Spreader, (2) Video 18-S1 Tripod W/ Legs Mid Spreader, (1) Video 18p W/Legs Mid Spreader
AUDIO
• Sound Devices: (2) 788T Recorder, (1) 744 T Recorder, (1) 522 Recorder
• Sound Devices: CL8 Mixert
• Lectrosonics: (17) UCR411A Block 19 Receiver
• (5) Block: 26 IFBR1 IFB Receiver
• (5) Sennheiser: MKH60 Microphone
• (15) Rode: NTG1 Microphone
• (14) Denecke SB-3 Time Code Box
• (5) K-Tek K102CCR Boom Poles
• Anchor: (2) AN1000 Powered Speaker, (1) AN-1001X Unpowered Speaker
VIDEO
WIVID (19) WVC-HD-2000 HDSDI/HDMI Transmitter/ Receiver Set, (2) WVC-HD-2000 HDMI Only
HUB Shared Storage
• (3) Facilis Terrablock Shared Video Storage, Model 24D, 4TB HT Driv
LIGHTING
• (1) NILA Led Boxer Light W/ Custom Pelican
• DIVA LITE: (7) 401, (2) 415
• ARRI: (8) 300 W, (9) 600W, (1) 750 W Plus
• Litepanels: (6) MiniPlus 5600K Daylight Camera Lite Kit (1 Flood)
• KINO: (24) 4′ 2 Bank, (9) 4′ 4 Bank, (2) 2′ 2 Bank, (2) 2′ 4 Bank, (1) 2' Single
MONITORS
• Transvideo: 6.5″ Rainbow RF RX Monitor w/Anton Bauer Plate, Transvideo Rainbow Ii 6.5″ SB Anamorphic W/ Anton Bauer Plate, Cine HD6SBL Super Bright 6″ w/Anton Bauer Plate, CineMonitor HD6SBL Super Bright 6″ Monitor w/Anton Bauer Plate
FOLLOW FOCUS
• Bartech FOLLOW FOCUS
FILTERS
• Tiffen & Sch: (20) Filters Various Sizes
PRODUCTION ACCESSORIES
• Lighting & Grip, Media & Pelican Cases
**KESLOW HIGHLIGHTS**
CAMERAS
Digital Cameras
• (12) ARRI ALEXA High Speed Camera Body
• (4) ARRI ALEXA Plus High Speed Camera Body
• (1) Sony F35
• (2)Panasonic AG-HVX200P
Film Cameras
• Arri 35 III
LENSES
• (2) 14mm Cooke S4 T2.0
• (1) 21mm Cooke S4 T2.0
• (1)100mm Cooke S4 T2.0 Lens
• (3) 135mm Cooke S4i T2.0
• Canon: 500mm Canon T4.5 Lens
• (2) 800mm Canon T5.6 Lens
• Nikon 20mm T3.5
EXTENDERS
• (9) Angenieux Optimo – 1.4x Extender
HEADS
• (4) Dexter Hi-Hats
MONITORS
• (2) Transvideo 5" Rainbow-2
• (1) Marshall 6.5" LCD Monitor V-LCD651STX
FILTERS
• 6,000 Tiffen & Schneider Filters Various Sizes
MEDIA
• (15) Panasonic 4GB & 8GB P2 Cards
TIGER DOES NOT GUARANTEE THE ACCURACY & IS SUBJECT TO CHANGE
Additional Info
Digital & Video Cameras, Lenses, Lighting and Grip, Monitors, Professional Audio, 8,000 Filters, Tripods, Camera Accessories & More…
Sale Partner
STEP 1 – REGISTER
Click the 'Register to Bid" link above and complete the signup form – your bidder number will be emailed to you for use at this auction. Please be certain to review the Terms of Sale, along with any Sale Specific Terms before registering.
You must provide a credit card, which will be authorized for $300 to secure your bids; Please note that your card must have sufficient credit to be authorized for 25% of your purchases as you continue to bid. If you plan on spending more than $10,000 please contact the Auctioneer prior to the auction to ensure no bidding interruption.
If you are a NON-US resident, you will be asked to submit a deposit prior to the auction in order to finalize your registration approval. Please contact our office at (805) 497-4999 for further assistance.
All deposits made by cashiers check, wire transfer or firm and personal check accompanied with a bank letter of guarantee will be returned within 7 days unless purchases are made.
STEP 2 – VIEW ITEMS
– Click on the 'View Items & Bid' link above to browse the auction catalog.
– Click on 'View Item' to see the lot description of each item.
– Click on "My Items" to view all items won, items not won, items you are currently bidding on and any items on your watchlist.
STEP 3 – BID
Enter a maximum of what you are willing to pay next to "Place max bid" and submit.
– The system will start your bid at the lowest available increment and bid for you.
– You can place multiple bids by entering all your max bids on each lot then scrolling to the bottom of the page and click on "Place multiple bids"; however, changing pages will clear your bids.
Important Bidding Notes:
– Items will close at a rate of 2-4 items every minute (varies by auction).
– An item's closing time will extend by 3 minutes when bidding occurs within the last 3 minutes of its scheduled closing.
– If you submit a bid prior to the auction you will be notified if you are out bid.
STEP 4 – PAY
Credit Cards on file will be charged at the end of the Sale (up to $10,000) plus a 18% buyers premium and Sales Tax unless you are purchasing for resale and have completed and returned a resale certificate before the conclusion of the auction. Balances in excess of $10,000 must be settled by cashiers' check or wire transfer received by Tiger by 12:00 pm the day following the auction.
Buyer is responsible for any bank charges incurred for processing wire transfers (Please note that it is common for your bank as well as intermediate banks to charge a fee).
STEP 5 – PICKUP
You are responsible to remove your items during the posted checkout times. If you are purchasing from out of the area, you may send a 3rd party shipping company to remove your items. Bring your own crews, packing materials, material handling equipment, etc. for removal. Appointments are mandatory. Be sure to email your preferred pickup time within the posted schedule after you have won your last auction item.