Sale FormatTimed Online AuctionClosed Sale StatusClosedForeclosureOnline Auction of Equipment & Real Estate of Former Major CBD ProcessorDate & TimeTue, Aug 10 at 11:00am (ET) LocationCadiz, KY More InfoRegister & View Items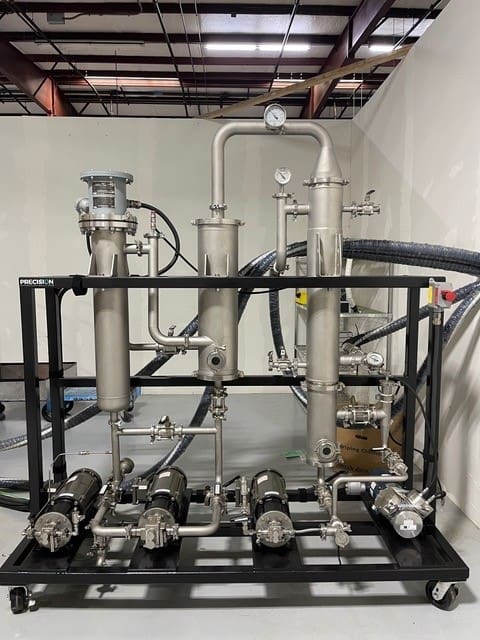 Date & Time
Tue, Aug 10 at 11:00am (ET)
Inspection
Mon, Aug 9 from 10am to 4pm (ET)
**By Appointment Only**
Removal
Wed – Wed, Aug 11 – 18 from 9am to 5pm (ET)
**By Appointment Only**
Sale Details

PROCESSING
• Vulcan Drying System Consisting of Portable Drying Feed System with Horizontal Feed Conveyor and Stationary Direct Fired Rotary Dryer, Minimum of 13.29 MMBtu Natural Gas Combustion Air Fan Burner and Fuel Train Auxiliary Infiltration Air Blower, Solids Discharge System with Counter-Weighted Gravity Operated Flap Gate on Dryer Discharge Breaching Particulate Control Unit, Approx. 30,000 cfm Cyclone with Rotary Airlock Approx. 30,000 cfm Induced Draft Fan Ductwork Connecting Rotary Dryer to Cyclone and Blower, Integration Consisting of Instruments, Piping, Pipe Supports, Wiring and Cable Support with Controls and Control Panel, Purchased New for Approx. $500,000*
• Tuffman Rotary Trommel, M/N- 310 Trommel, with Control Panel and Conveyor
• Hi-Cap Counter Rotating Dual Screen Grain Cleaner with Platform
• Batco Field Loader Conveyor, M/N- BCX2-1539TDFL, 15 Inch Belt, 39 Foot Length, Capacity-10,000 BPH
• Orkel High Capacity Compactor Baler, M/N- MP2000
• Wheatheart Grain Auger, M/N- WHR 10-31
• Valmetal Tub Grinder/Bale Processor, M/N- Bale P
• Hi-Cap Counter Rotating Dual Screen Grain Cleaner
• IEC-Thermo Industrial High Efficiency Multi-Phase Hemp Drying System, Consisting of Oven, Cyclone, Buoyancy Drying Chamber & Duct Work

LAB
• (4) 2019 Precision Extractions Solutions Automated Solvent Evaporator, M/N- ASE100, S/N- 7168-14, 100 Liters/Hour with ASE 100 Hose Kits, *Purchased New for Approximately  $800,000*
• 2019 Shimadzu High Performance Liquid Chromograph, M/N-LC-2030C Plus
• 2019 UIC Short Path Distillation Plant
• 2018 Eden Labs Ethanol Extraction System
• Thermo Scientific Recirculating Chiller
• Cascade Sciences Forced Air Decarb Oven
• Lab Stirrers, Moisture Analyzers and Centrifuges

FACILITY
• Kaeser Rotary Screw Air Compressor, M/N- CS120, 100 HP
• Kaesar Refrigerated Compressed Air Dryer, M/N- KRD 800
• Quincy Rotary Screw Air Compressor, M/N- QSI-245, 50 H.P.
• Sylvan Industries Inc. Vertical Compressed Air Tank
• Summit Industrial Products Inc. CondePhase Plus 80 Oil/Water Separator, M/N- CPF016, Walk-in Freezer

MATERIAL HANDLING
• 2019 Merlo Telehandler, M/N- TF30.9-115, Capacity- 6,600 lbs
• 2019 Merlo Telehandler, M/N- TF30.9-115, Capacity- 6,600 lbs.
• Delta Tandem Flatbed Gooseneck Trailer, 8 Foot X 20 Foot with Super Ramp
• Yale and Clark Walk Behind Electric Forklifts

REAL ESTATE INFORMATION (TO BE SOLD BY TRANZON)

• Formerly Utilized as Hemp Processing Facility
• 86,500 +/- SF Industrial Facility on 14.5 +/- Acres
• Recently Appraised at $1,600,000
• Extensive Renovations and Upgrades in 2018/2019
• Value Add Opportunity with Ample Room for Future Expansion
• Zoned Light Industrial (I-1) – Wide Variety of Commercial & Industrial Uses
• Centrally Located Between Hopkinsville, KY, Ft. Campbell, KY and Land Between the Lakes National Recreation Area
• Tremendous Access to I-24 and Short Drive to Clarksville, TN

Click here for more information on the Real Estate.
Additional Info
Automated Solvent Evaporators, Hemp Analyzers, Lab Equipment, Vulcan & IEC – Thermo Industrial Drying Systems & Material Handling
Sale Partner
Location:
134 Roger Thomas Rd., Cadiz, KY 42211
________________________________________
Click on the links below to download PDF form(s):